Our Rooms
After a busy day, unwind in your modern hotel room incorporating contemporary décor, air-conditioning, en-suite bathroom with hairdryer, opening windows, tea and coffee making facilities, refrigerator, work desk, broadband cable connection, complimentary WiFi access (up to 1GB), direct dial telephone and LCD television.
For something a little more sophisticated, we highly recommend a room upgrade to one of the hotel's Park Suites. Relax in your modern living space with a 32" LCD TV, mini stereo with iPod docking station and subtle lighting finished off with lush colours and fabrics. In your separate bedroom awaits a king bed, 27" LCD TV and a work desk. Park Suites are design-infused and offer original and striking interior elements – making for an enhanced stay at Park Regis City Centre.
The 122 room hotel also provides 24-hour reception, security lifts and undercover car parking ($45 per day).
Standard Triple Room
Room features 1x King + 1x Single bed or 3x Single Beds, please note bed configuration is strictly subject to availability. More spacious than the standard rooms with partial Hyde Park View. Room Facilities: Safe, Air-conditioning, Iron/Ironing Board, Desk, Heating, Carpeted, Wardrobe, Hairdryer, Complimentary Toiletries, Towels, Toilet/Bathroom, Telephone, Alarm Clock/Radio, Cable Channel, Flat Screen TV, Tea/Coffee Maker, Bar Fridge, Kettle
Superior King Bed
Room features King bed. More spacious than the standard rooms with partial Hyde Park View. Room Facilities: Safe, Air-conditioning, Iron/Ironing Board, Desk, Heating, Carpeted, Wardrobe, Hairdryer, Complimentary Toiletries, Towels, Toilet/Bathroom, Telephone, Alarm Clock/Radio, Cable Channel, Flat Screen TV, Tea/Coffee Maker, Bar Fridge, Kettle,
Economy Room
Room features a queen size bed,a 32-inch flat-screen TV and a private bathroom.  Max 2 guest. Room facilities: Safe, Air-conditioning, Iron and Ironing Board, Desk, Heating, Carpeted, Wardrobe/Closet, Shower, Hairdryer, Complimentary Toiletries, Towels, Toilet/Bathroom, Telephone, Alarm Clock/Radio, Cable Channel, Flat Screen TV, Tea/Coffee Maker, Bar Fridge, Kettle
Standard Queen Room
Room features a queen size bed,a 32-inch flat-screen TV and a private bathroom.  Max 2 guest. Room facilities: Safe, Air-conditioning, Iron and Ironing Board, Desk, Heating, Carpeted, Wardrobe/Closet, Shower, Hairdryer, Complimentary Toiletries, Towels, Toilet/Bathroom, Telephone, Alarm Clock/Radio, Cable Channel, Flat Screen TV, Tea/Coffee Maker, Bar Fridge, Kettle
Standard King Room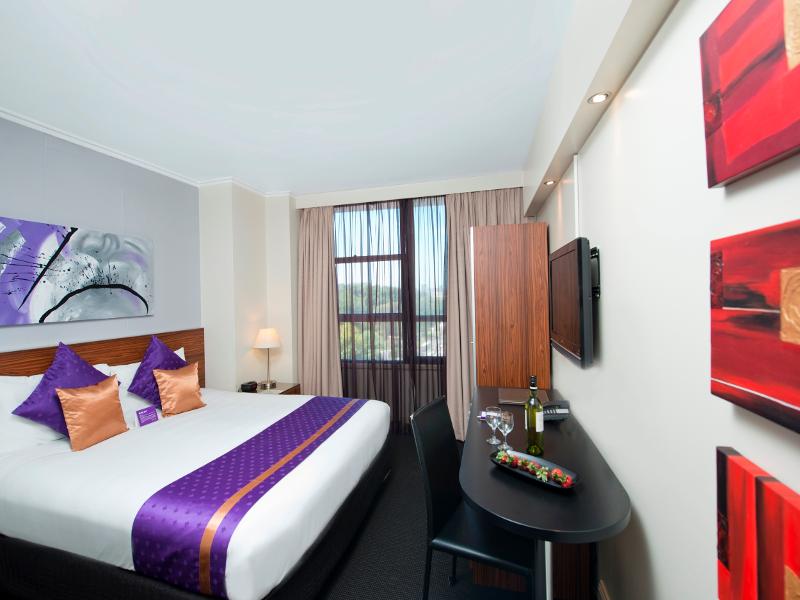 Room features a king size bed,a 32-inch flat-screen TV and a private bathroom.  Max 2 guest. Room facilities: Safe, Air-conditioning, Iron and Ironing Board, Desk, Heating, Carpeted, Wardrobe/Closet, Shower, Hairdryer, Complimentary Toiletries, Towels, Toilet/Bathroom, Telephone, Alarm Clock/Radio, Cable Channel, Flat screen TV, Tea/Coffee Maker, Bar Fridge, Kettle
Standard Twin Room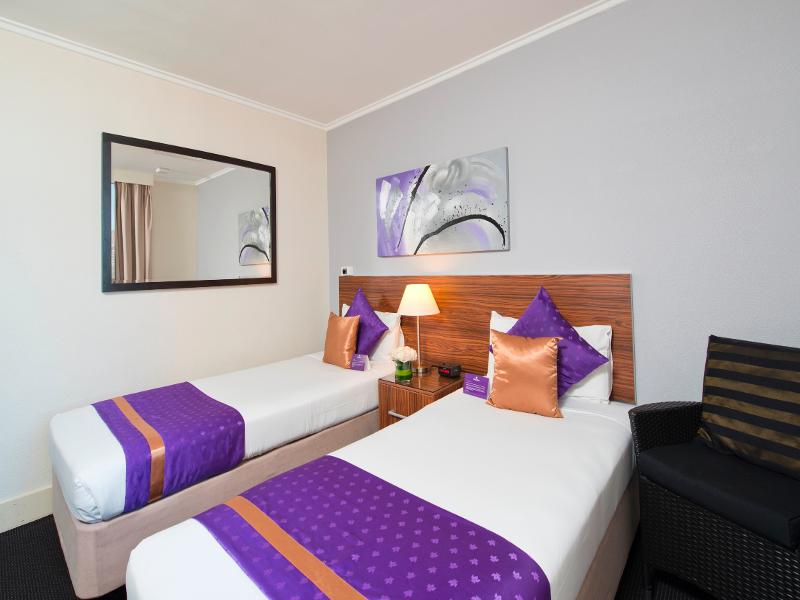 Room features two single beds,a 32-inch flat-screen TV and a private bathroom.  Max 2 guest. Room facilities: Safe, Air-conditioning, Iron and Ironing Board, Desk, Heating, Carpeted, Wardrobe/Closet, Shower, Hairdryer, Complimentary Toiletries, Towels, Toilet/Bathroom, Telephone, Alarm Clock/Radio, Cable Channel, Flat screen TV, Tea/Coffee Maker, Bar Fridge, Kettle
Superior King or Twin Room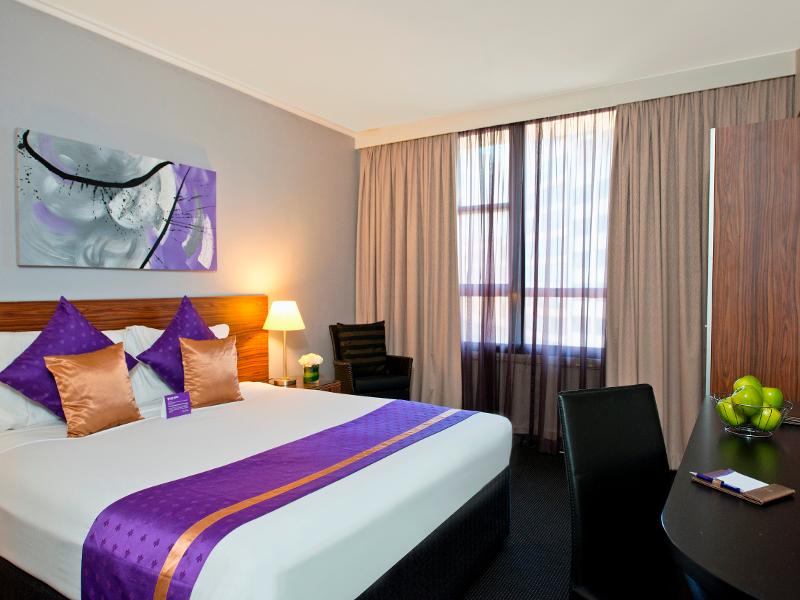 Room features King or 2 Single beds. More spacious than the standard rooms with partial Hyde Park View. Room Facilities: Safe, Air-conditioning, Iron/Ironing Board, Desk, Heating, Carpeted, Wardrobe, Hairdryer, Complimentary Toiletries, Towels, Toilet/Bathroom, Telephone, Alarm Clock/Radio, Cable Channel, Flat Screen TV, Tea/Coffee Maker, Bar Fridge, Kettle,
Park Suite
Room features a King bed and lounge area with fold out couch. A studio style room that is more spacious than the standard or superior rooms Room Facilities: Safe, Air-conditioning, Iron/Ironing Board, Desk, Heating, Carpeted, Wardrobe, Hairdryer, Complimentary Toiletries, Towels, Toilet/Bathroom, Telephone, Alarm Clock/Radio